Garage Door Repair in SLO County
We Service All Of SLO County
Atascadero
Paso Robles
San Luis Obispo
Templeton
Cambria
Morro Bay
Pismo Beach
Grover Beach
Arroyo Grande
Garage door or opener not working properly? Like most things, garage doors require maintenance and break from time to time. Brad's Overhead Doors has decades of experience in garage door repair, and can troubleshoot and fix whatever problems you may have. You can schedule a visit by calling us, or send us a message from our contact form. In the event we are not open here is some info for some common situations: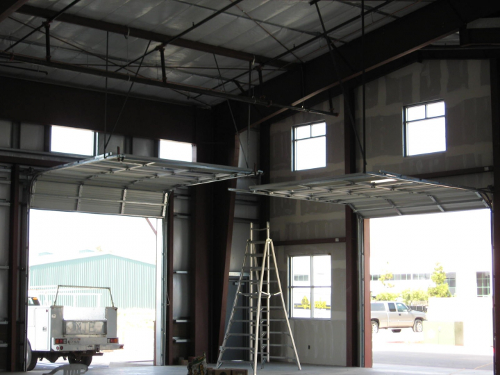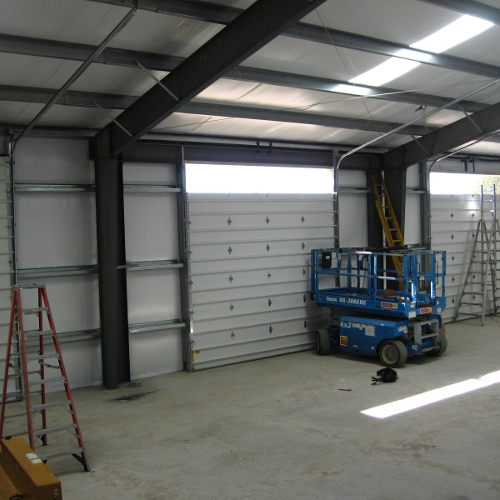 Garage Door Spring Replacement

Garage door springs help lift most of the weight of the door to make them feel lighter for both people and openers, however, they will weaken and break over time. Check the troubleshooting below if you think you may have a broken spring, and then call us to get right out to perform your garage door spring repair!

Sensor Alignment

Every door is required to have sensors placed near the bottom corners of the opening, and one of the most common issues we see often doesn't require a service call. If your door is not closing or opening properly, make sure these two sensors are unobstructed. One sensor should have a yellowish-orange light, and the other should have a green light if they are aligned and unobstructed. Both lights should be on and should not flicker throughout the operation of the opener. Making sure this is the case before scheduling service can save you money, and the hassle of waiting for a repair.

Garage Door Opener Repair

Openers can have problems such as having a gear break, motor burn up, circuit board get fried, or other issues. Some of these problems can be fixed, and some require a new opener.

Cable Repair

A cable runs along each side of a sectional garage door and transfers the spring tension to the door. If one breaks, gets damaged, or unwinds from its drum it will need to be fixed before the door can work safely again.

Preventive Maintenance

To ensure safe and efficient operation of your garage door, preventive maintenance is required. We can perform tune-up service to keep it quiet, safe, and last for years to come.

Track and Roller Repair

Rollers can become noisy as the bearings wear, and tracks can become bent, loose, or misaligned from random impacts. We can fix them up to get you both rolling again.
Frequently Asked Questions / Troubleshooting
How often should my door be serviced?

Garage doors require regular maintenance like lubrication and balancing to work quietly and prolong lifespan. It is best to perform this tune-up every 12-24 months depending on where you live, and how often your door is used.

Are my garage door springs broken?

If your door won't open as usual you may have a broken spring. For torsion springs it is easiest to look above the center of the garage door at the tube that holds the springs. If a spring is broken it will have a space between the two ends, and likely look something like the picture below. The spring left of the rail is intact, and the right spring is broken. Although only one spring may be broken, both springs will need to be replaced. All springs are dangerous to remove and replace, so it is best to give us a call and we'll come fix it as soon as possible.

Why is my garage door so loud?

This may indicate one of many problems including bent tracks, lack of lubrication, need for new rollers, or a host of other things. We will need to come out and have a look to accurately diagnose the problem.

Can I open my door manually?

If your spring is broken the door will be very heavy, and not entirely safe to open without the help of the springs. However, if your problem is just an opener issue, you can disconnect the door with the rope (usually red) hanging from the rail, and then operate the door by hand.

Why is my opener making a beeping noise?

One of the most common reasons a newer garage door opener beeps is that the backup battery is dead. How does that happen? Sometimes a breaker or GFCI has been tripped, or the socket has worn out and the connection is now loose. This means power was cut off to the opener. You may not have noticed because the backup battery took over and kept opening the door, but after a while the battery will die, causing the opener to beep. In order to rule out this issue, make sure to check that the outlet where the opener is plugged in has power and that the socket connection is solid (i.e. wiggle the plug to see if the power is intermittent).

Why should I use Brad's Overhead Doors instead of Precision Garage Door?

We are too familiar with customers calling us after having Precision Garage Door work on their door. In many cases they have made unnecessary upsells, or simply charged an unjustifiable amount for their services. A recent customer had them charge over four times more than we would have charged for the same work! Precision Garage Door is a nationwide franchise, and we are a local, family-owned business that has been serving the Central Coast for decades.